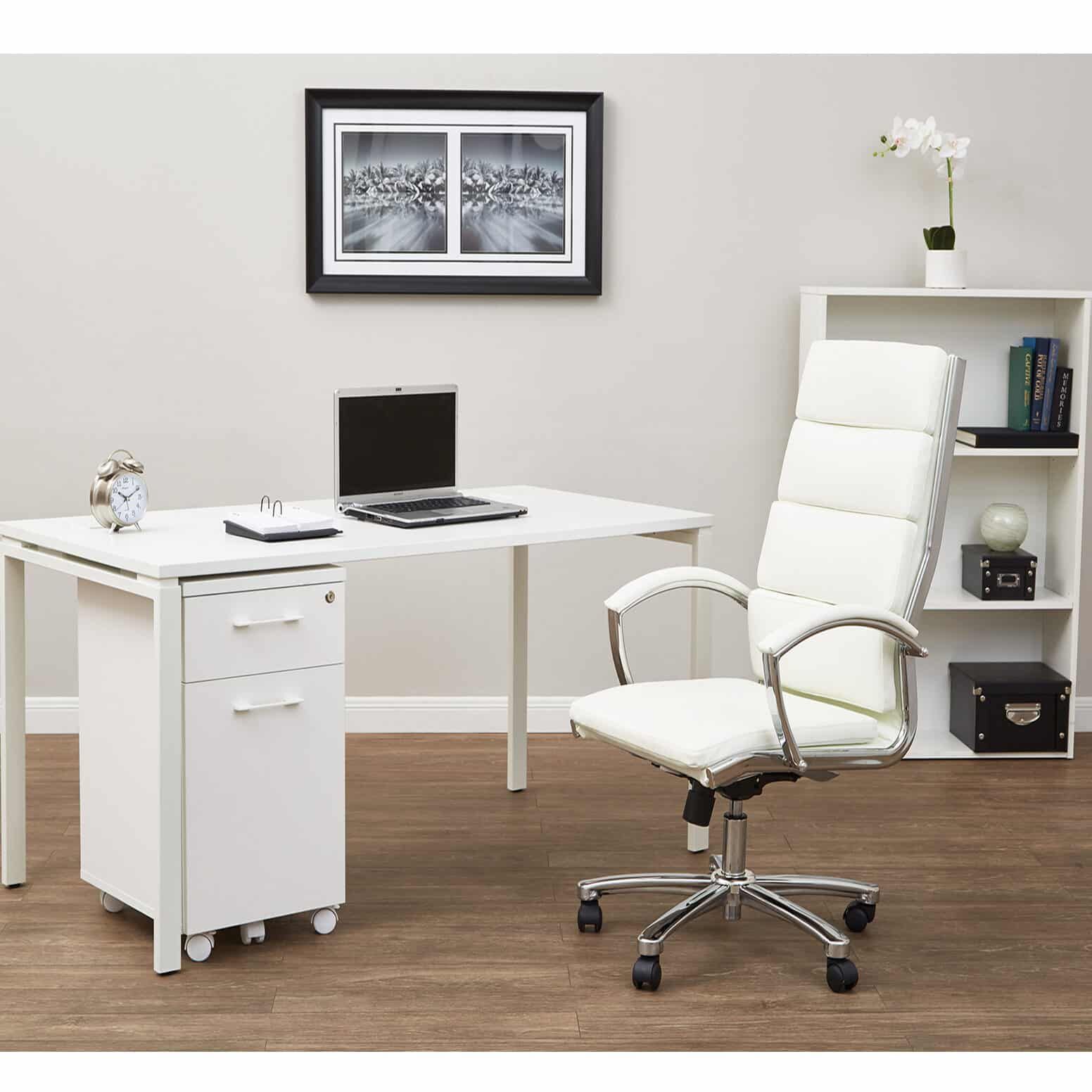 Home office furniture sets may seem like an unnecessary expense and difficulty at first consideration. One might be tempted to simply work with existing furniture, storage and lighting. But anyone who has gone from an office environment to a work-from-home arrangement knows that the transition is not always as easy as one would expect.
Designating and equipping a home office area can create the distance that is needed to make the psychological transition from relaxing at home to a productive and focused mindset, and make the tasks that need to be accomplished more achievable by improving comfort and ergonomics.
Home Office Necessities
The equipment used to furnish the home office is crucial to a worker's longterm success. Whether you can dedicate a whole room to your workspace or just a corner of a bedroom, a few basic supplies can ensure that your work is done in a way that is efficient and sustainable.
At a minimum a good desk can create an ergonomic work environment, especially if the desk features adjustable height. A computer and/or monitor can often be wall-mounted, allowing even low profile desk in a small home office to provide plenty of work area.

Add some storage solutions to reduce clutter and make your book collection accessible. Built in storage can be a particularly efficient use of space for the home office, while shelves can provide the opportunity to showcase your style and overall aesthetic while you also store your necessities.

A good office chair is crucial to spare joint and back fatigue from hours of work. Your chair will make a massive difference in how able your are to put in the necessary hours for success.

Lighting is an underrated consideration, as either not enough light or too much in the form of glare can cause difficulty with accomplishing tasks.
Additional Needs
Depending on the use to which you will put your home office space, other considerations may need your attention as you choose furniture.
Will clients be joining you in your home office regularly? If so, welcoming decor and a second chair should be considered.

What will co-workers or customers see in the background when they contact you via video call? Closed cabinets may make a less distracting background than shelves.
Getting your New Office Furniture
Even the idea of purchasing the amount of furniture needed for a home office may seem daunting. You may envision trying to assemble a desk with a screwdriver and a huge instruction sheet, or cram a bulky office chair into the trunk of your car to get it home from the store. Fortunately, many stores offer solutions to these difficulties. Some companies offer white glove delivery and installation to make the process of setting up your home office furniture as painless as possible.
When beginning your work-from-home journey, a good initial focus on creating a space that can function as a complete workspace and facilitate a good work-life balance will make the position much more profitable and sustainable in the long term. Choosing the right furniture will result in a home office that is comfortable and functional yet also full of style. If you pay attention to all of these factors you will enjoy years of benefit from your investment in your small home office.